HOWARD MENARY, F.S.M.A.E.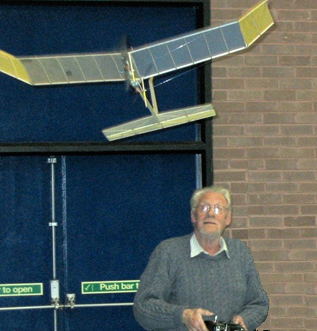 Howard Menary, FSMAE passed away on 24th February 2016
Howard was a lifelong model aircraft enthusiast who started flying in 1943 with a KK Ajax. He rejuvenated the historic Ulster MAC in 1963 when we turned to Radio Control, starting with single channel home built equipment and progressing to multi channel R/C of FAI Aerobatic models.
Howard represented Ireland at three F3A World Championships. He then became interested in Thermal Soaring and regularly flew in the BARCS Radioglide Champs in the 70's and 80's.
In later years he set a British National, F3A R/C Piston Motor Duration record with a 12 hour 38 minute 15 seconds flight on 16th August 1996, at Nutts Corner, County Antrim. This flight also established the Irish Duration record in the same class and the Model Aeronautics Council of Ireland presented him with a medal to mark the achievement.
He also did a long distance flight across Belfast Lough from Carrickfergus, County Antrim to Crawfordsburn, County Down. Sponsors contributed more than £1,000 to a hospital unit treating children who have Cystic Fibrosis.
He was an Officer of the Model Aeronautics Council of Ireland for many years, and a founding member of the Northern Ireland Association of Aeromodellers in 1971.
It was recognized as a Sport by the NI Sports Council, the first in the UK, leading to continuing Grant Aid for competitive flying for many years
He invited three members of the BMFA to visit Northern Ireland and carry out A and B Achievement Tests. This visit from David Lloyd-Jones, Secretary of the BMFA, Chris Bromley and Ray Jones led to the formation of Area 13 of the BMFA. He represented the Area as Chairman and Council Delegate until retiring in 2009. He was elected a Fellow of the Society in 1998, and the Area made a Presentation to him on his retirement, a memorable occasion.
Howard held Royal Aero Club, Private Pilot License for both Powered aircraft and Sailplanes.
He worked for Shorts Missile System Division on Seacat, Blowpipe and Javelin. He played a large part in the development and operation of Shorts Skeet R/C target aircraft. Development flying was carried out at Llanbedr, Wales, with the Service usage taking place with the Royal Artillery, at their Firing Range in the Hebrides.
Howard will be sadly missed but long remembered